Plataformas De Movimiento
MOTION PLATFORM V3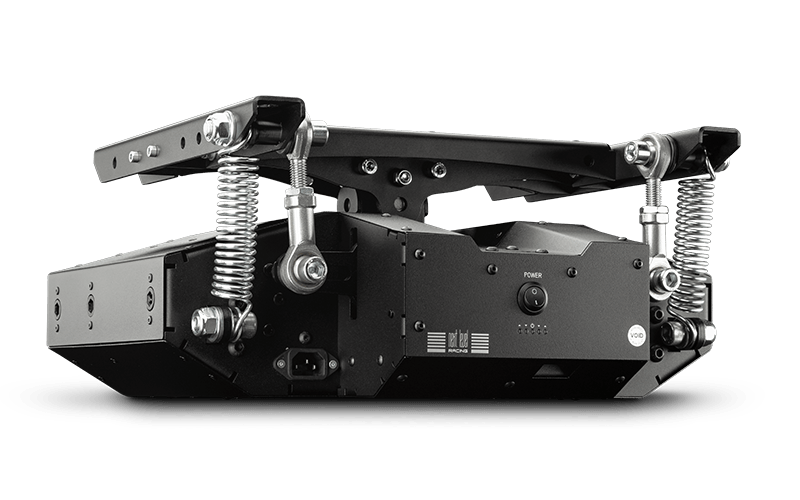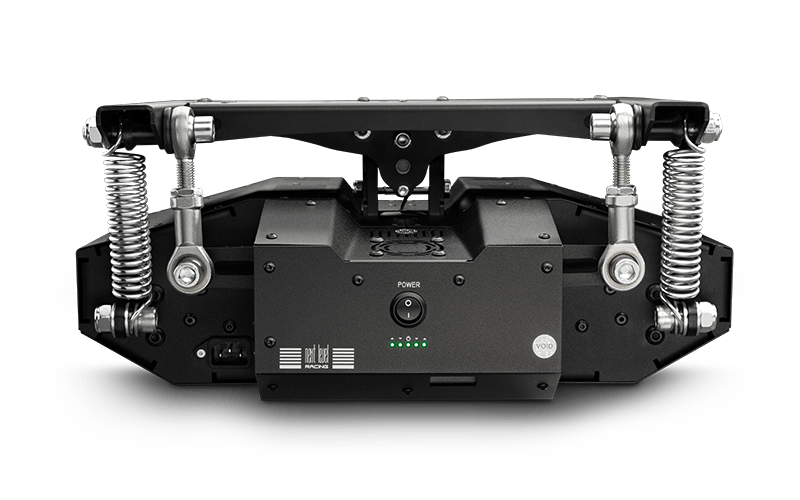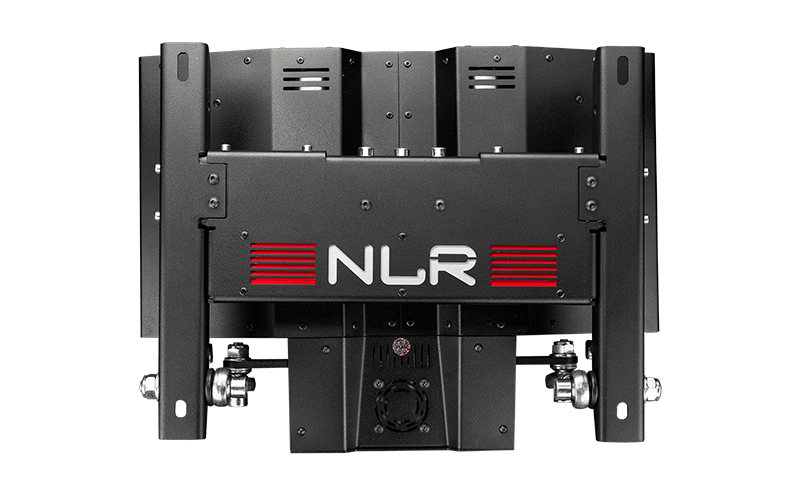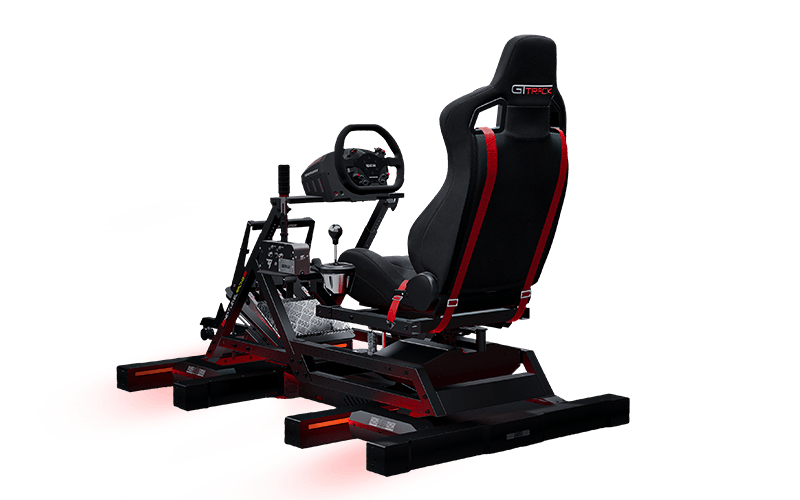 CARACTERÍSTICAS PRINCIPALES
Software Del Administrador De La Plataforma De Next Level Racing® Compatible Con Los Principales Títulos De Carreras Y Vuelos En Pc Con Un Simple Enchufe Usb
Una Plataforma Profesional De Fabricación Europea Diseñada En Colaboración Con Los Principales Ingenieros De Movimiento Comercial Del Mundo
Especialmente Diseñada Para Que Sólo El Asiento Se Mueva Como Los Simuladores De Movimiento Más Avanzados Del Mundo.
Movimientos Rápidos Y Suaves Y Realistas Usando Perfiles Profesionales De Movimiento Y Un Software De Motor
Tecnología De Avance De Vr Incorporada En El Software Del Administrador De La Plataforma
Método De Enfriamiento Pasivo Y Activo Con Control De Velocidad De Ventilador Adaptable Para Uso Comercial
Buy Direct
DESCRIPCIÓN
La plataforma de movimiento V3 de Next Level Racing® está diseñada exclusivamente para clientes que desean la máxima inmersión y la experiencia de simulación más realista disponible. El futuro de la simulación ya está aquí y esta plataforma de Next Level Racing® te pone en la pista de carreras o en el asfalto de vuelo con una precisión, un realismo y una inmersión increíbles. Combina la plataforma de Next Level Racing® con cualquier auricular de RV del mercado para vivir una experiencia increíble que es simplemente imbatible.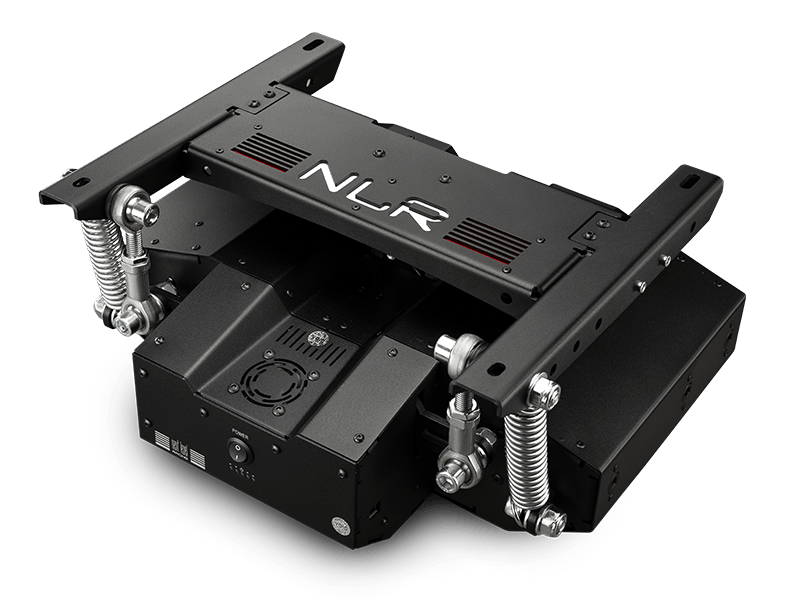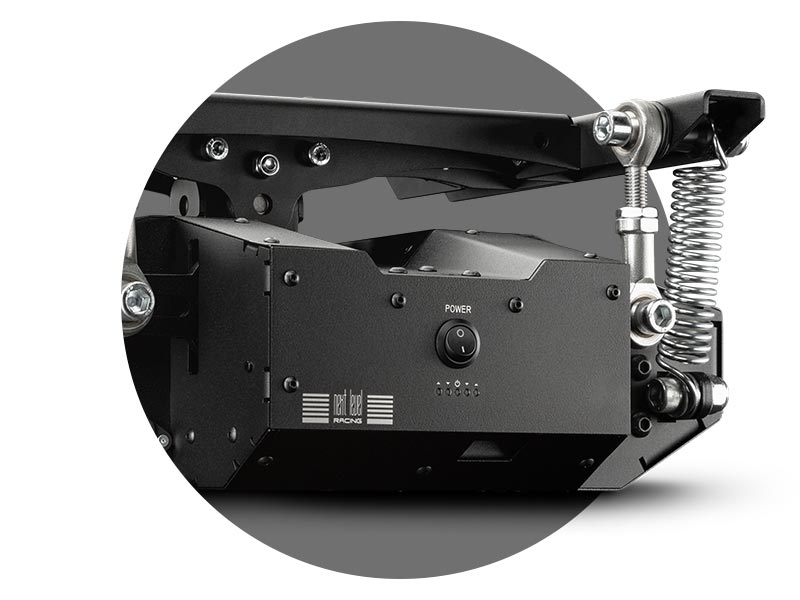 Experiencia De Inmersión
La plataforma de movimiento de Next Level Racing® está diseñada y elaborada específicamente para que el asiento se mueva para dar la inmersión más realista con la mente y el cuerpo. Con este diseño e ingeniería se ha probado y comprobado que se sienten la fuerza g con mayor eficacia a través de presiones musculares que no se sentirían si la rueda y los pedales se movieran al mismo tiempo. Esta presión aplicada al cuerpo y a los músculos puede replicar y mantener de forma más realista la misma fuerza g que un auto real. Este método de sólo mover el asiento no sólo lo utilizan los pilotos de carreras profesionales para entrenar, sino también algunos de los simuladores de movimiento más avanzados y de alta gama del mundo, incluyendo CXC Simulations©. La plataforma también cuenta con la función de Feedback Táctil al tener dos puntos de vibración laterales, usando feedback real en el juego basado en la información de telemetría del auto para simular los baches de la carretera, la textura de la carretera, las vibraciones, los cambios de marcha, las colisiones, los roces y los baches horizontales
Fabricado Con Precisión
Diseñada para ser la plataforma de consumo profesional más avanzada del mercado. Estamos seguros de que puede superar a las plataformas profesionales por una fracción del precio. La plataforma es un producto forjado por años de experiencia en simulación combinada con los líderes europeos de movimiento y los ingenieros de software de MotionSystems®. Las plataformas de movimiento de Next Level Racing® no sólo son utilizadas por corredores de simulaciones de todo el mundo, sino también por las principales universidades, fuerzas militares de defensa, instituciones de formación y pilotos profesionales.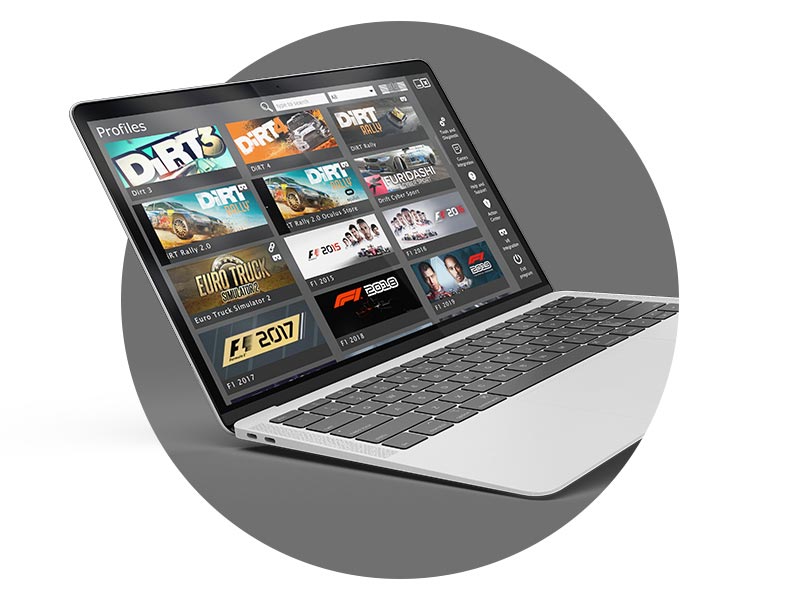 Software Fácil De Usar
La plataforma viene completa con el software del administrador de la plataforma de Next Level Racing®. Se trata de un software profesional y especializado para la plataforma y es compatible con todos los principales títulos de carreras y de vuelo en el PC, y se actualiza constantemente para que sea compatible con los nuevos títulos a medida que se lanzan. El Administrador de la plataforma es un potente motor, pero es fácil de usar, lo que significa que puedes ajustar los niveles de movimiento, los baches, el balanceo y el cabeceo con un solo clic. El software también incluye VR headway, que utiliza fórmulas matemáticas avanzadas para calcular la compensación necesaria y la aplica a los auriculares VR en tiempo de ejecución, lo que significa la experiencia de simulación más auténtica e inmersiva. La plataforma de movimiento de Next Level Racing® está diseñada para ser fácil de usar, con poco o ningún soporte técnico necesario para su montaje y funcionamiento, lo que significa que puedes instalar la plataforma tú mismo con facilidad y estar listo para correr/volar con un movimiento completo en menos de una hora.
For a list of current compatible titles checkout out the link below.
LARGEST MOTION COMMUNITY AND SUPPORT CHANNELS
There are thousands of active Next Level Racing® users globally and you can join the Next Level Racing discord community to access tips, settings and community knowledge for your platform.
Next Level Racing®'s dedicated Motion Customer Support Team provides expert pre-sale and after-sales support. These are dedicated team members that have been providing customers with support for Next Level Racing® Motion products for many years and have strong knowledge of motion and simulation.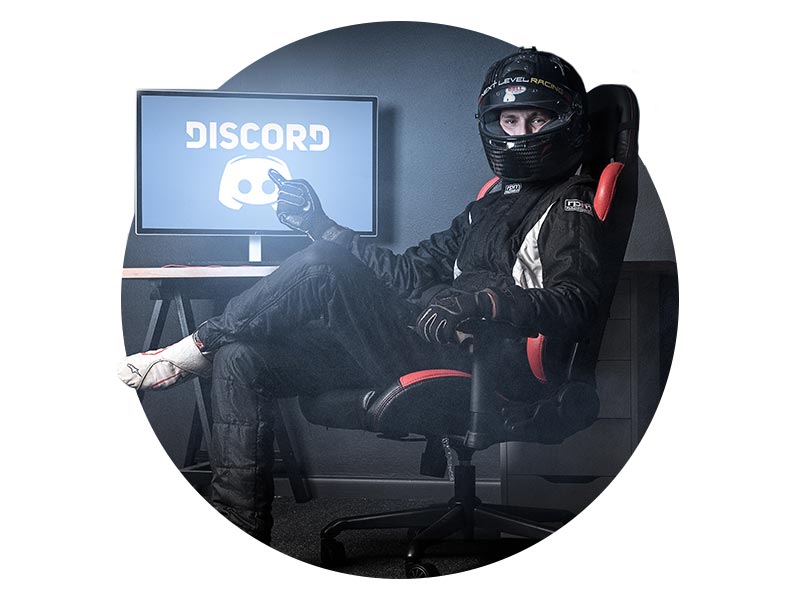 Utilizado Por Profesionales De Todo El Mundo
La Plataforma de Movimiento V3 es usada por muchos profesionales en su industria de carreras, vuelos e investigación. Esta es la solución perfecta para cualquier usuario que quiera una réplica exacta del movimiento.
No puedo superar la calidad del kit, especialmente si se considera el precio. Es una unidad de consumo muy accesible
Lee Mathers – Diseñador principal del juego – CodeMasters – Motion V2
Realmente mejora la experiencia… «Live for Speed», se sintió genial. Iracing, se sintió genial. F1 2015, ¡me encantó!

Darin Gangi – Inside Sim Racing – Motion V1

Uso Comercial Y RV
La plataforma de movimiento de Next Level Racing® combinada con la RV es simplemente una experiencia increíble, algunos de nuestros títulos favoritos incluyen Project Cars, Assetto Corsa, Dirt Rally e iRacing. Para las empresas de RV que desarrollan su propio software, el SDK está disponible con un coste adicional. Nuestro SDK permite la integración de software de terceros y la adición de movimiento para proyectos de RV personalizados. Para obtener más información, ponte en contacto con nosotros. La plataforma de movimiento Next Level Racing® es un producto sólido que también es adecuado para uso comercial, y ofrecemos una garantía de 1 año para clientes comerciales.
CARACTERÍSTICAS
Una plataforma profesional de fabricación europea diseñada en colaboración con los principales ingenieros de movimiento comercial del mundo
Especialmente diseñada para que sólo el asiento se mueva como los simuladores de movimiento más avanzados y de alta gama del mundo, incluyendo CXC Simulations©.
Movimientos increíblemente rápidos, pero suaves y realistas usando perfiles profesionales de movimiento y un software de motor.
El diseño más compacto del mundo y, sin embargo, es increíblemente poderoso. Puede caber en el espacio de tu actual cockpit sin necesidad de espacio adicional.
Puede soportar hasta 130 kg o 285 lb de usuarios
Fácil de usar con solo hacer clic para jugar en el software del administrador de la plataforma de Next Level Racing®, compatible con las principales carreras y títulos de vuelo en el PC con un simple enchufe USB.
tecnología de RV Headway incorporada en el software del administrador de la plataforma
Método de enfriamiento pasivo y activo con control adaptativo de la velocidad del ventilador para asegurar que la plataforma pueda ser utilizada incluso para propósitos más exigentes como centros comerciales y eventos sin sobrecalentamiento
Los frenos electromagnéticos del eje del motor aseguran que la plataforma no se mueva cuando el sistema está apagado.
Fuente de energía incorporada, incluyendo una función PFC activa para proteger de cortocircuitos, sobrecargas, sobretensiones y sobrecalentamientos.
Paneles acústicos en el interior para reducir el ruido de funcionamiento incluso más bajo que el V1 y el V2 que eran conocidos por ser las plataformas más silenciosas del mercado
Fabricación europea de calidad y respaldada con una garantía de 2 años
Desplazamiento angular máximo para Cabeceo y Balanceo: +- 10°.
Velocidad máxima: 20°/s, Aceleración máxima: 360°/s2
QUÉ CONTIENE LA CAJA
Plataforma de movimiento V3 de Next Level Racing®
Descarga del software del administrador de la plataforma de Next Level Racing®.
Cable USB
Cable de alimentación
Paneles laterales de acero para atornillar directamente a tu GTultimate Cockpit de Next Level Racing®, el Simulador de Vuelo de Next Level Racing® o para adaptarlo a tu cockpit actual.
ESPECIFICACIONES
Fuente de energía: 110-240 VAC 50-60 HZ
Consumo máximo de energía: 350 W
Peso máximo del usuario: 130 Kg.
Temperaturas ambientales: -20° a +60 °C
Temperaturas de pleno rendimiento: de +5 °C a +35 °C
Tornillo directo a todos los GTultimate y Simuladores de Vuelo de Next Level. (Diseñado para adaptarse fácilmente a otros cockpits)
Peso del producto – 25 kg o 55 lbs
Dimensiones de la caja – 52 x 49 x 26 cm o 21″ x 19″ x 10″
Peso en caja – 28 kg o 62 lbs
Número de pieza NLR-M001V3
PRODUCTOS NLR COMPATIBLES
Next Level Racing Flight Simulator Pro (coming 2021)
Other brand or DIY cockpits – Many customers also have the ability to create custom adaption to their cockpit
Comprar En Nuestros Minoristas Seleccionados