Racing Stands
Wheel Stand Lite
Buy Direct
*ELECTRONICS NOT INCLUDED
Leading Features
Folds in less than 10 seconds for fast storage
Gear shifter support included
High quality and rigid carbon steel
Completely adjustable wheel height/ angle and even pedal distance/ angle
Upgradeable to a full cockpit with the challenger seat add on
Compatible and pre-drilled for all major brands including Logitech®, Thrustmaster® and Fanatec®
Buy Direct
About
The Next Level Racing® Wheel Stand Lite is a solid and highly adjustable stand for all major wheels, pedals and gear shifters. The Wheel Stand Lite allows the user to transition from a desk setup to a dedicated stationary and portable station. A full range of adjustability, makes it the perfect product for any user that is looking to start their sim racing journey and it allows the user to continue building to a full cockpit setup.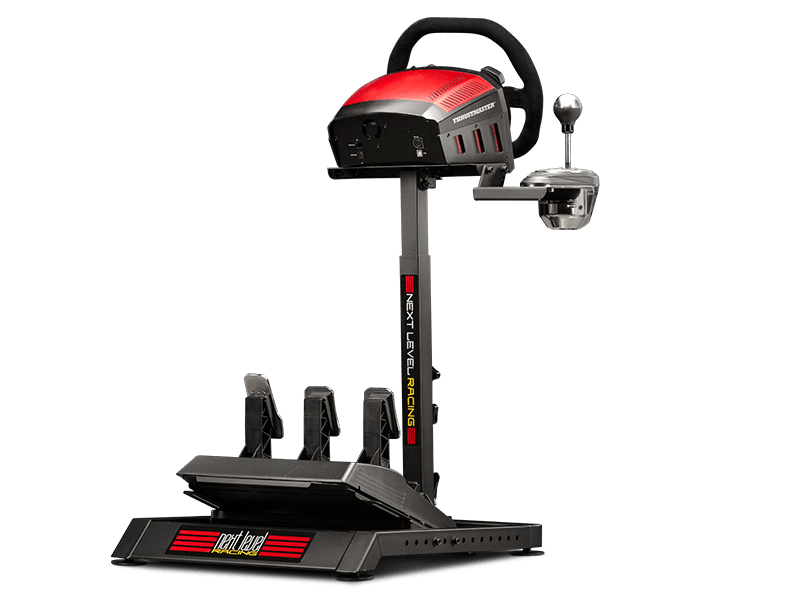 WHEEL ADAPTABILITY
Wheel plate adaptability for all major brands including Logitech®, Thrustmaster® and Fanatec®. With added features like height and angle adjustment, you are set to get the desired wheel position for an immersive racing experience.
PEDAL PLATE ADJUSTABILITY
Brake with confidence! The pedal plate is constructed with the highest-grade powder coated steel to allow a strong and rigid base. With distance and angle adjustment, the perfect pedal position is achieved for any user.
GEAR SHIFTER COMPATABILITY
Pre-drilled for all major Shifters Logitech®, Thrustmaster® and Fanatec®, the Wheel Stand Lite shifter plate can be attached either on the right or left hand side.
Features
Solid stand for your wheels, pedals and gear shifter
Folds in less than 10 seconds for fast storage
Gear shifter holder included and can be mounted left or right side
High quality and rigid carbon steel
Completely adjustable wheel height/angle and even pedal distance/angle
Compatible with the Challenger seat add on to upgrade to a full cockpit
Compatible and predrilled for all major brands including Logitech®, Thrustmaster® & Fanatec®
What's in the box
Next Level Racing® Wheel Stand Lite
Gear shifter adaptor/holder
Instructions for quick and easy assembly
Screws to hard mount your wheel, pedals and shifter
Specifications
Supported Height – 120 – 210 cm or 4ft – 6ft 9 inches
Product Dimensions – L 60 x W 48 x H 50-75cm or L 23" x W 19" x H 19"–29" inches
Product Weight – 13kg
Boxed Dimensions – L 52 x W 19 x H 68 cm or L 20" x W 7" x H 27" inches
Boxed Weight – 15kg
Part Number – NLR-S007
Compatible NLR Products
FAQ
Yes! We know that as you evolve in your racing journey, you would like your gear to evolve with you. The Wheel Stand Lite can be turned into a full cockpit by adding the Challenger Seat Add-on and Challenger Monitor Stand.
Yes, the Wheel Stand Lite is designed to fit all users. With angle and height adjustability of the wheel plate, you are able to get the right positioning. The Wheel Stand Lite also offers pedal distance and angle adjustibility.
We have manufactured the Wheel Stand Lite with the most advanced manufacturing methods of laser cutting and robotic welding to ensure a sturdy wheel stand.
Compare
Buy at our selected retailers