Racing Cockpits
F-GT
Formula and GT Simulator Cockpit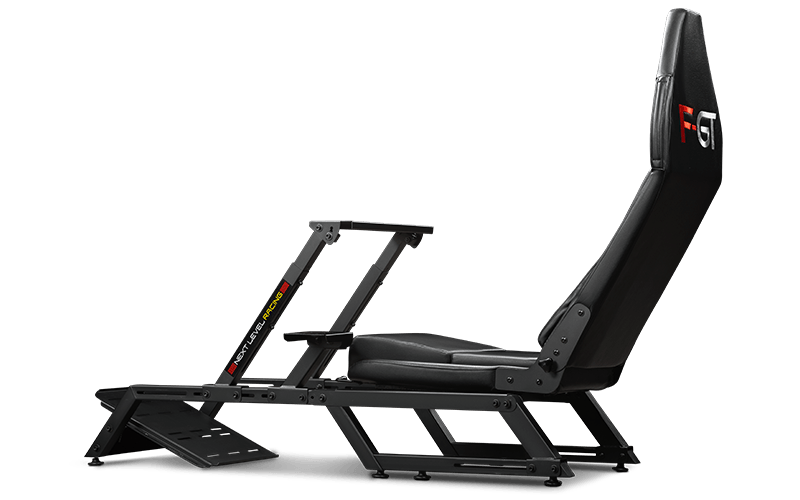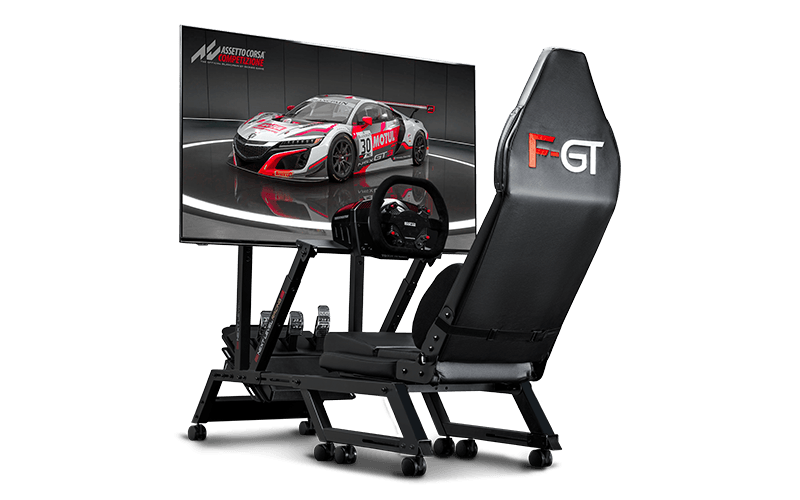 *ELECTRONICS NOT INCLUDED
BELANGRIJKE KENMERKEN
COCKPIT MET TWEE STANDEN OM U IN EEN AUTHENTIEKE FORMULE OF GT RACEHOUDING TE BRENGEN
WERELDWIJD GEBRUIKT VOOR SERIEUZE SIMRACES EN ZELFS VOOR PROFESSIONELE RIJOPLEIDING
EXTRA'S ZIJN ONDER ANDERE ZADELGLIJDER, VERSNELLINGSPOOKSTEUN, LENDENSTEUNKUSSEN EN BUTTKICKER.®-ADAPTER
STIJF ONTWERP, GEBOUWD OM HIGH END PEDALEN EN DIRECT DRIVE WIELEN AAN TE KUNNEN
Buy Direct
Over
Het revolutionaire Next Level Racing® F-GT ontwerp laat je toe om in echte raceposities te zitten voor zowel formule als GT racing. Je hebt niet langer een dure cockpit nodig alleen voor formule-racen, in plaats daarvan past de Next Level Racing® F-GT bij al je racetitels door dubbele raceposities te bieden. De F-GT Cockpit werd gebruikt door het Real Esport team om het GTR Endurance eRacing Wereldkampioenschap te winnen.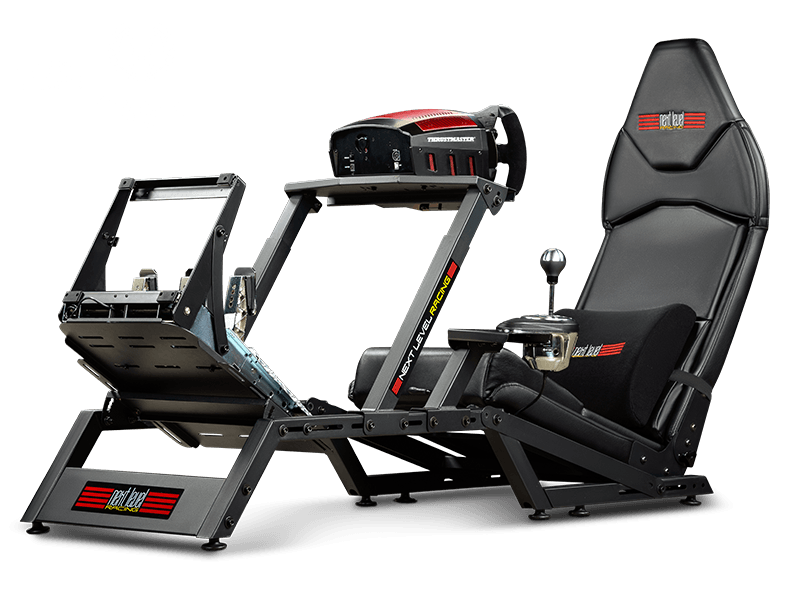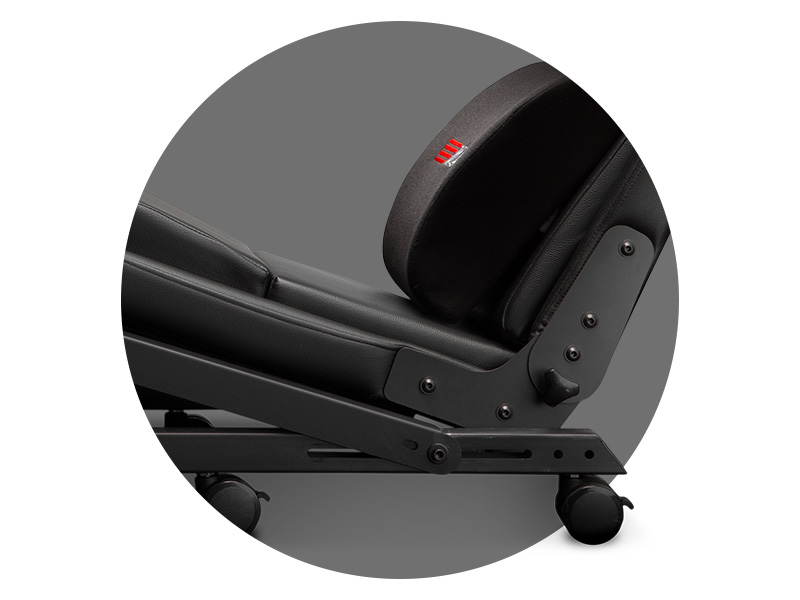 Vol met extra's
Extra's zoals versnellingspooksteun, zadelglijder, lendensteunkussen, in hoogte verstelbare voeten en de Buttkicker® Gamer 2 adapter zijn allemaal functies die worden geleverd bij de Next Level Racing® F-GT, waardoor het de beste waarde cockpit op de markt is.
Twee posities, één cockpit
Het revolutionaire ontwerp maakt gebruik van de feedback van professionele coureurs en biedt de gebruiker authentieke raceposities voor zowel Formule- als GT-races, zodat u de meest authentieke race-ervaring beleeft. De cockpit is ook geschikt voor een "hybride" positie, wat betekent dat de zadel in de GT-positie staat, maar de pedalen in een Formule-achtige positie.
Een wereldkampioenschap winnende cockpit
De F-GT-cockpits werden gebruikt door het Real Esport-team om het GTR Endurance eRacing-wereldkampioenschap in Denemarken te winnen. De cockpits van Next Level Racing® worden ook gebruikt door professionele coureurs zoals Red Bull Racing®'s Mad Mike Whiddett, GTacademy® wereldkampioen Matt Simmons, Project Cars 2 wereldkampioen Kamil Pawlowski, professioneel rallyrijder Ricardo Costa Jnr en vele anderen.
Aanpassingsvermogen
Het gepatenteerde ontwerp van de Next Level Racing® F-GT zorgt voor een stijve en stevige cockpit, terwijl het ook maximaal verstelbaar is, zodat je je stuur, pedalen en schakelpook in de voor jou beste positie kunt zetten. De stuurwielsteun is stevig genoeg voor professionele direct drive stuurwielen, en het stijve ontwerp van de pedaalplaat zorgt ervoor dat je een authentieke race-ervaring hebt.
KENMERKEN
Gebruikt door duizenden klanten over de hele wereld, waaronder professionele coureurs en esports teams
Lasergesneden, robotgelast koolstofstaal in matzwart voor een eersteklas afwerking
Cockpit met twee standen voor authentieke formule- of GT-raceposities
Volledig verstelbare stuur, versnellingspook en pedaalposities
Inclusief alle extra's, zoals zadelschuiver, schakelpooksteun, lendensteunkussen en Buttkicker Gamer® 2 adapter
Stevig gebouwd om direct drive wielen en high end pedalen aan te kunnen
Ergonomisch en comfortabel ontwerp geschikt voor lange races
Compatibel met alle gangbare wielen en pedalen. Voorgeboord voor Thrustmaster®, Logitech®, Fanatec® en Simxperience® Accuforce-wielen. Sterk genoeg gebouwd om direct drive wielen te ondersteunen
WAT ZIT ER IN DE DOOS
Next Level Racing® F-GT frame en zadel inclusief zadelschuiver
Houder voor schakelpook (kan aan de linker- of rechterkant worden gemonteerd)
Next Level Racing® lendensteun kussen
Schroeven om uw wiel hard te monteren
Buttkicker® Gamer 2 Adapter
In hoogte verstelbare schroefpoten
Instructies voor een snelle en eenvoudige montage
SPECIFICATIES
Ondersteund maximumgewicht – 130 kg or 285 lbs
Afmetingen –Formule 170 x 60 x 100 cm or 67 x 24 x 39 inches. GT 140 x 60 x 125 cm or 55 x 24 x 49 inches
Afmetingen in doos – 96 x 50 x 40 cm or 38 x 20 x 16 inches
Gewicht in doos – 45 kg or 99 lbs
FAQ
Nieuwe gegalvaniseerde matzwarte afwerking op het frame. Alle bouten, moeren en ringen zijn veranderd in zwart voor een stealth-look
Nieuwe schuifgaten voor snellere aanpassing van wiel-, pedaal- en shifterposities
3 extra niveaus van hoekaanpassing toegevoegd voor het stuur, de pedalen en het zadel
8 in hoogte verstelbare poten die in het frame van de cockpit worden geschroefd
Adapter meegeleverd voor Buttkicker® Gamer 2
Wijziging van de productnaam in F-GT om de zitpositie van de formule weer te geven
Compatibiliteit met Next Level Racing® vergrendelbare wielwielen (apart verkrijgbaar)
De F-GT-cockpit is momenteel niet compatibel met het Motion Platform V3.
U hoeft alleen maar de GT-beugels te bevestigen om uw cockpit van een Formule-positie in GT te veranderen.
Compare
VERSTELBAARHEID
Buy at our selected retailers