Racing Cockpits
GTTRACK
Racing Simulator Cockpit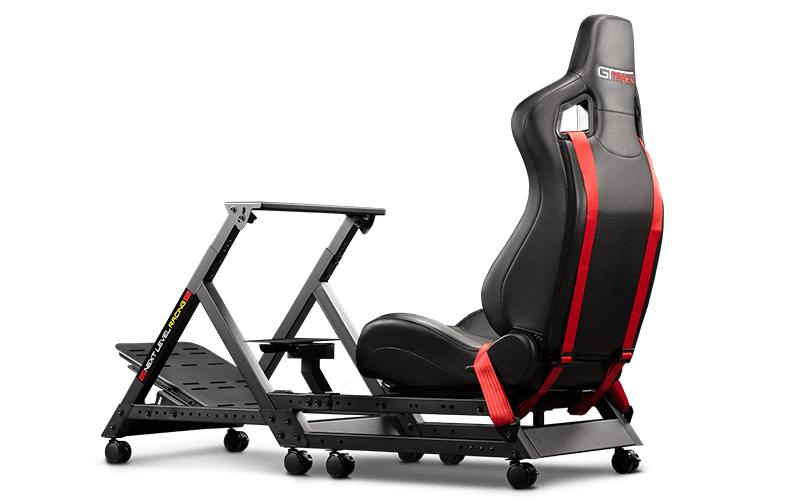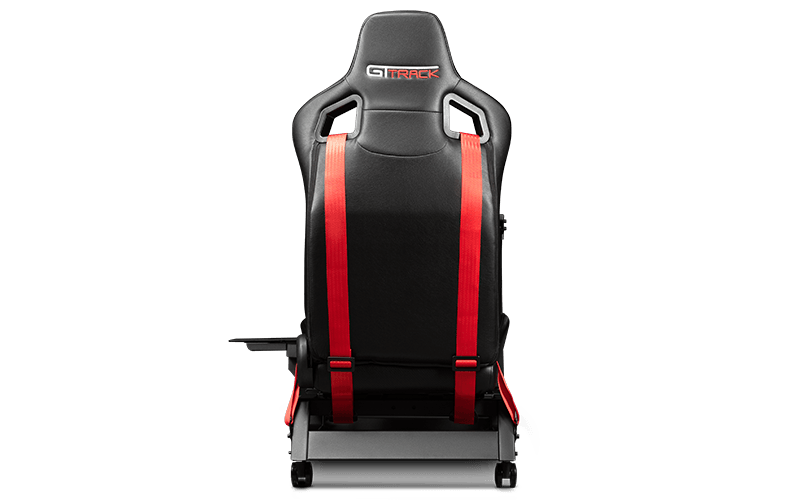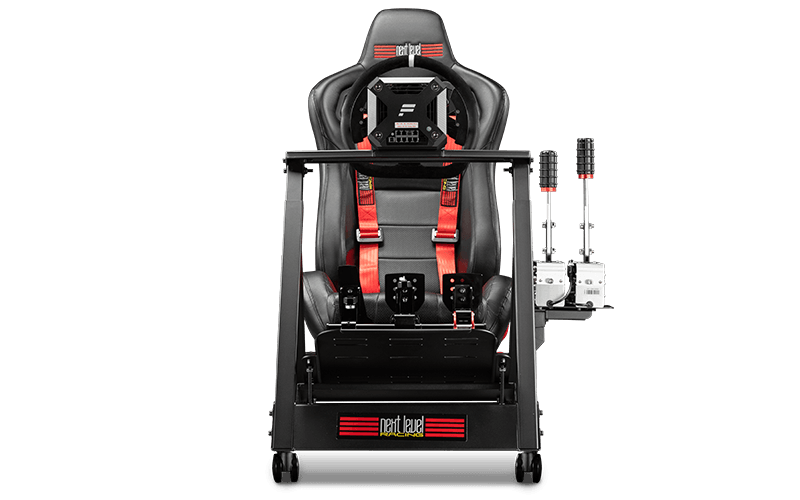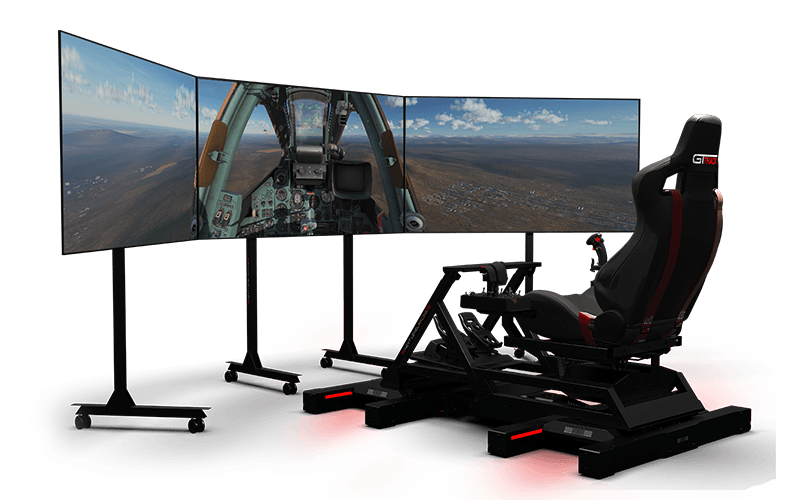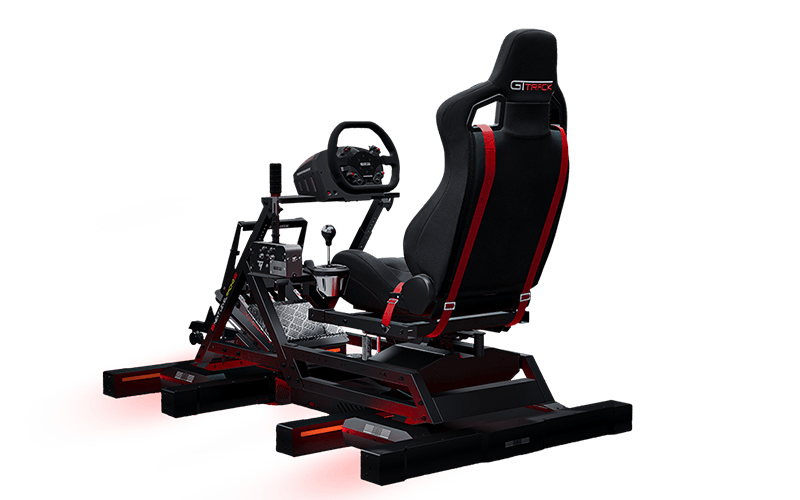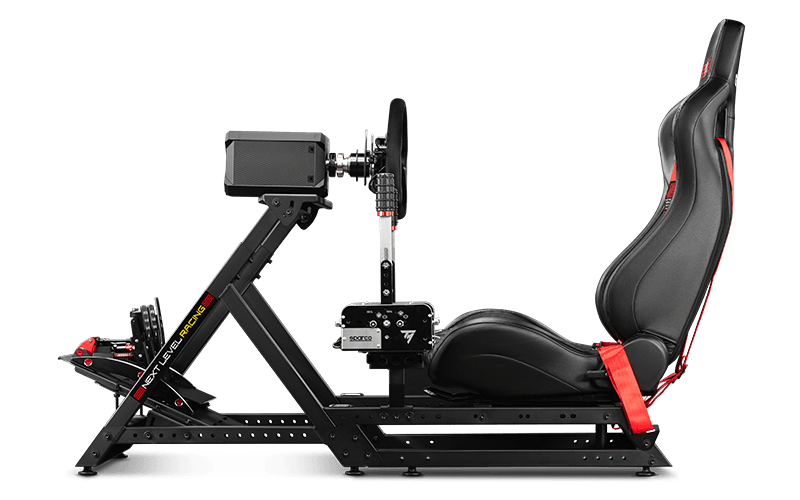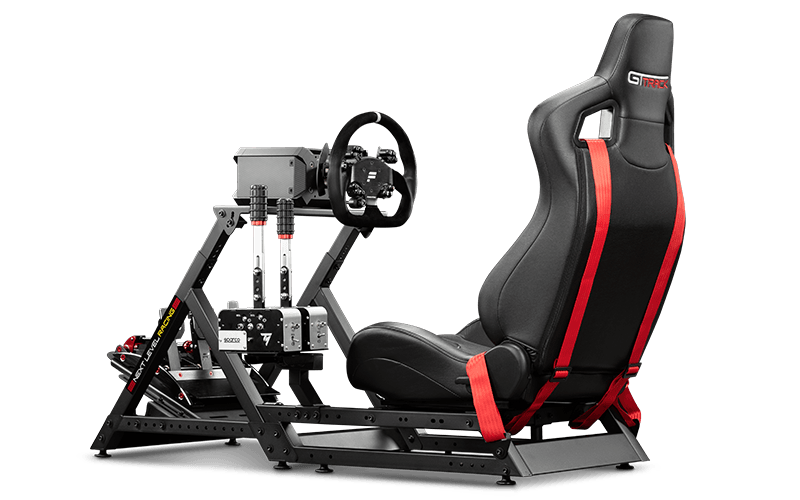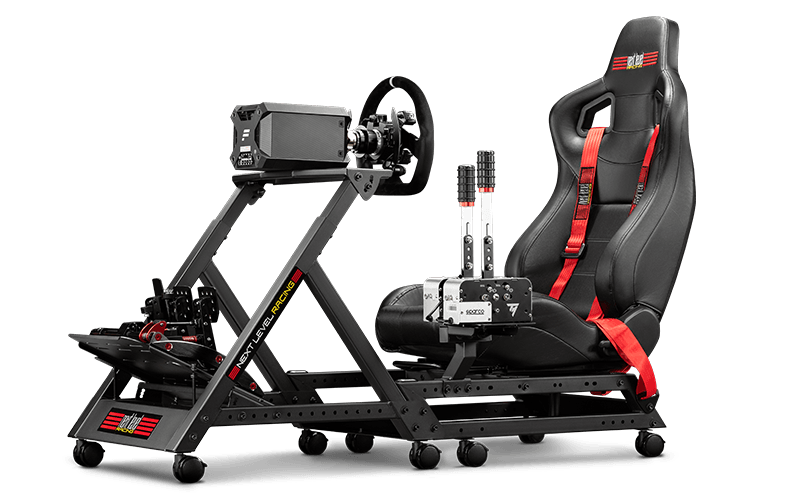 *ELECTRONICS NOT INCLUDED
BELANGRIJKE KENMERKEN
ONTWORPEN VOOR PROFESSIONALS EN SERIEUZE SIM RACERS
RIGIDE GEBOUWD OM DE DIRECT AANGEDREVEN WIELEN EN PEDALEN TE ONDERSTEUNEN
VOORGEBOORD VOOR ALLE BELANGRIJKE MERKEN THRUSTMASTER®, LOGITECH® EN FANATEC®
TE GEBRUIKEN MET MOTION PLATFORM V3 EN TRACTION PLUS PLATFORM
COCKPIT MET VEEL FUNCTIES OMVAT ONDER ANDERE VERSNELLINGSPOOK & HANDREM ONDERSTEUNING, BUTTKICKER® ADAPTOR, VIERPUNTS RACEHARNAS, VERGRENDELBARE ZWENKWIELEN EN IN HOOGTE VERSTELBARE VOETEN
Buy now
Over
U vroeg, wij luisterden. We hebben 8 jaar klantenfeedback gebruikt om onze klanten alle functies, die men wilde,  in een racecockpit, te geven. The Next Level Racing® GTtrack is de ultieme cockpit voor serieuze sim racers die zoeken naar een rigide, volledige verstelbaarheid en een echte raceauto zitpositie. Het design van GTtrack is geïnspireerd op de feedback van professionele racers en sommige van 's werelds snelste eSports racers, om u elke functie, die nodig is voor serieus sim racen, te geven. De  GTtrack is de sterkste en van de meeste functies voorziene cockpit die op de markt is gekomen en zet daarmee een nieuwe standaard voor simulatie racen.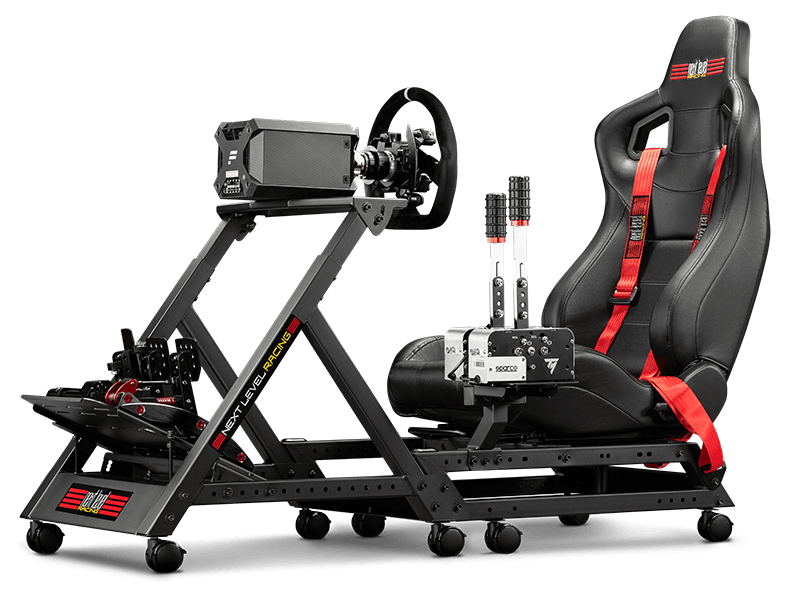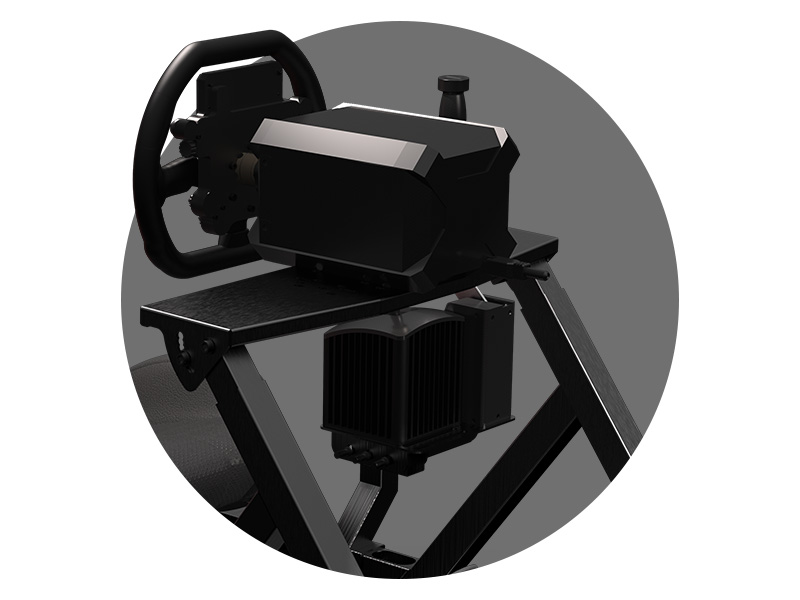 Te gebruiken met Direct Aangedreven Wielen
De volledige rigiditeit van de GTtrack stelt het in staat om direct aangedreven wielen en professionele pedalen sets te ondersteunen, waarbij het onder andere te gebruiken is met alle voornaamste wielen en pedalen zoals Thrustmaster®, Logitech® en Fanatec®.
Sterk en verstelbaar
Door het combineren van koolstofstaal met de beste productiemethoden van lasersnijden en robotlassen, is de GTtrack niet alleen gebouwd om sterk en rigide te zijn, maar ook aan te passen aan iedereen. Gebruikers zijn in staat de afstand en hoek van de pedalen te verstellen om een accurate weergave van een raceauto te verzekeren. De wielplaat kan zowel in hoogte als hoek aangepast worden. Complete verstelbaarheid van de afstand en hoek van de stoel om een overweldigend raceervaring te verzekeren.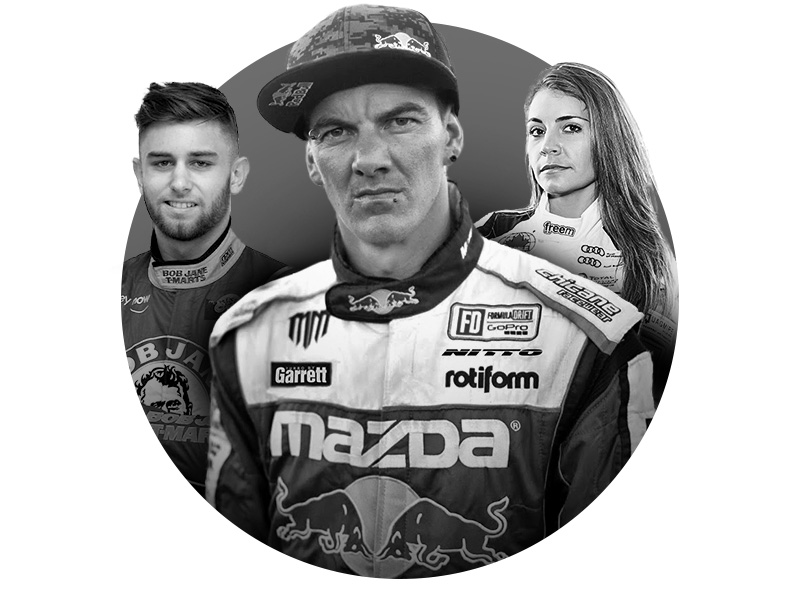 Gebruikt door kampioenen
De GTtrack cockpit is gebruikt door, Project Cars 2 World Championship winnaar, Kamil Pawlowski. Next Level Racing® cockpits zijn ook gebruikt door professionele racers zoals Red Bull Racing®'s Mad Mike Whiddett, GTacademy® wereld kampioen Matt Simmons, professioneel rally racer Ricardo Costa Jr en vele anderen.
Kamil "Khaki" Pawlowski- Project Cars 2 World Champion 2019
De perfekte cockpit voor beweging
De Gttrack is gebouwd met beweging in gedachten. Het Next Level Racing® Bewegingsplatform V3 is direct te bevestigen aan de GTtrack wat enkel 10 minuten opbouwtijd vergt. De GTtrack is ook volledig te gebruiken met het Next Level Racing® Traction Plus Bewegingsplatform voor ultiem simulatie beleving.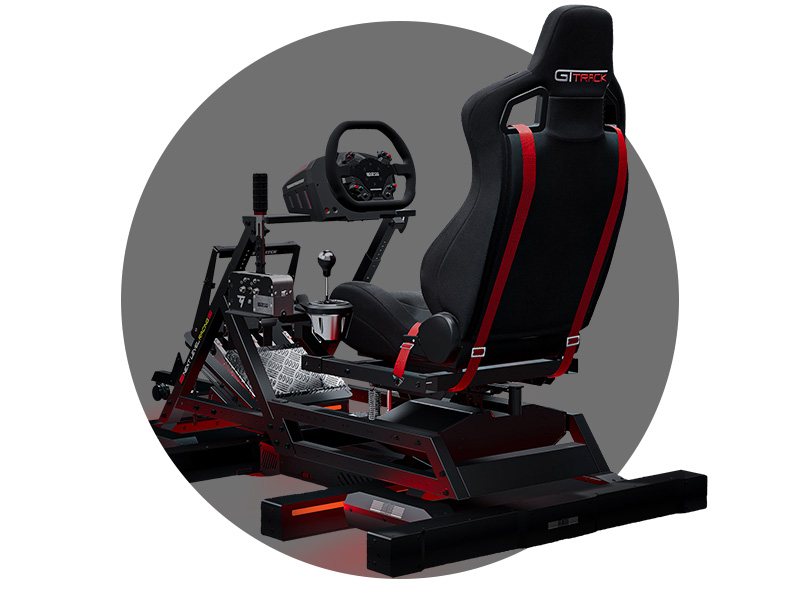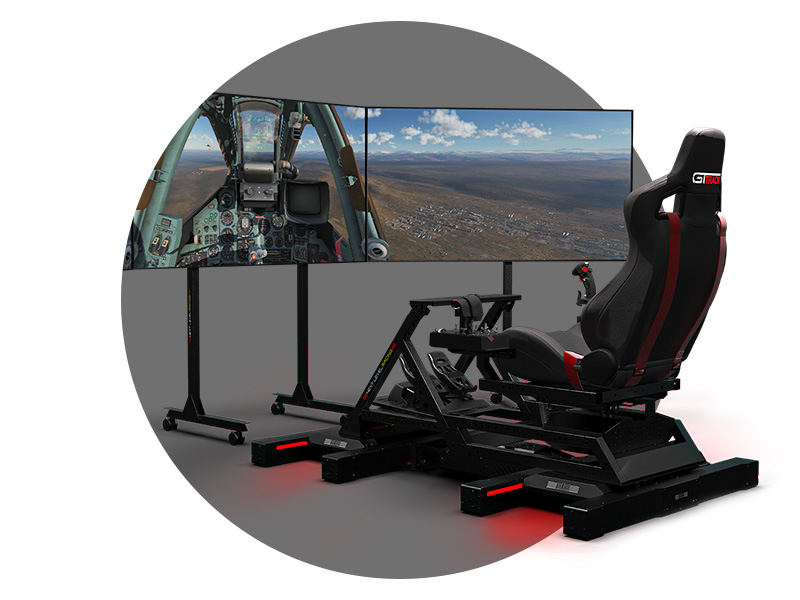 Neem het in de lucht
De  GTtrack kan eenvoudig worden omgebouwd in een vliegtuigcockpit met de Next Level Racing® Gevechts Vlucht Set. Een ontwerp dat geschikt is voor iedere vluchtgebruiker die een verandering van uitzicht wil en in plaats van alle racetracks het luchtruim wil ontdekken. De vierpuntsgordel creëert een overweldigende vluchtervaring voor iedere enthousiate vliegenier.
KENMERKEN
Ontworpen voor prefessionele en serieuze sim racers
Gebouwd met beweging in gedachte – Het Next Level Racing® Bewegingsplatform V3 is direct en in minder dan 10 minuten te koppelen aan het Next Level Racing® Traction Plus Bewegingsplatform
Stuur en pedalen zijn verstelbaar in afstand en hoek
Gebouwd met rigiditeit om directe aandrijfwielen en professionele pedalen sets te ondersteunen
Afstandverstelbare versnellingspook. Versnellingspook en handrem ondersteuning (kan ook 2 x Thrustmaster® TSS op het zelfde moment ondersteunen)
Voorgeboord voor alle bekende merken onder andere Thrustmaster®, Logitech® en Fanatec®
Buttkicker® Gamer 2 Adaptor en Vierpunts racingharnas voor ultieme ervaring
Versterkte racekuipstoel met een onbuigzaamheid benodigd voor optimale beweging.
Inclusief Next Level Racing® Vergrendelbare Zwenkwielen en in hoogte verstelbare rubberen voeten (Niet alleen geweldig voor thuisgebruikers maar ook voor commerciële gebruikers aangezien de GTtrack cockpit met gemak kan worden verplaatst met alle elektra en het Bewegingsplatform V3 nog gekopped)
WAT ZIT ER IN DE DOOS
Next Level Racing® GTtrack frame en stoel inclusief dubbel vergrendelbare racestoelrails
4 punts Next Level Racing® harnas
Next Level Racing® Vergrendelbare Zwenkwielen
In hoogte verstelbare rubberen voeten
Versnellingspookhouder
Ondersteuningsplaat voor handrem
Buttkicker® Gamer 2 adaptor
Schroeven om uw stuur, pook en pedalen te monteren
Instructies voor snelle en eenvoudige montage
SPECIFICATIES
Ondersteunde Hoogte – 120 -210 cm of 4ft – 6ft 9 inches
Ondersteund Max Gewicht – 150 kg of 330 lbs
Product Afmetingen – 138 x 120 x 55 cm of 54 x 47 x 21 inches
Product Gewicht – 48kg of 105 lbs
Doos Afmetingen – 100 x 61x 59 cm of 39 x 24 x 23 inches
Verpakt Gewicht – 60kg of 133 lbs
FAQ
Ja, de GTtrack is ontworpen om gemakkelijk aan het Motion Platform V3 te worden bevestigd. De GTtrack is voorgeboord voor het Motion Platform V3, waardoor hij eenvoudig te bevestigen is.
Ja, de GTtrack is compatibel met het Traction Plus Platform.
Ja, de GTtrack heeft een breed scala aan aanpasbaarheid voor alle gebruikers. De GTtrack biedt pedaalafstand, pedaalhoek, wielhoogte, wielhoek, zithoek en afstandsverstelling.
VERSTELBAARHEID
Buy at our selected retailers