Racing Stands
Wheel Stand Lite
*ELECTRONICS NOT INCLUDED
BELANGRIJKE KENMERKEN
OPVOUWBAAR IN MINDER DAN 10 SECONDEN VOOR SNELLE OPSLAG
SCHAKELPOOK STEUN INBEGREPEN
HOOGWAARDIG EN STIJF KOOLSTOFSTAAL
VOLLEDIG INSTELBARE WIELHOOGTE/-HOEK EN ZELFS PEDAALAFSTAND/-HOEK
UPGRADEBAAR NAAR EEN VOLLEDIGE COCKPIT MET DE CHALLENGER ZADEL ADD ON
COMPATIBEL EN VOORGEBOORD VOOR ALLE GROTE MERKEN, WAARONDER LOGITECH®, THRUSTMASTER® EN FANATEC®
Buy Direct
Over
De Next Level Racing® Wielstandaard Lite is een solide en zeer verstelbare standaard voor alle gangbare wielen, pedalen en versnellingspoken. De Wielstandaard Lite laat de gebruiker toe om van een bureau setup over te stappen naar een speciaal stationair en draagbaar station. Een volledige reeks van instelbaarheid, maakt het het perfecte product voor elke gebruiker die op zoek is om te beginnen met hun sim racing reis en het stelt de gebruiker in staat om verder te bouwen naar een volledige cockpit setup.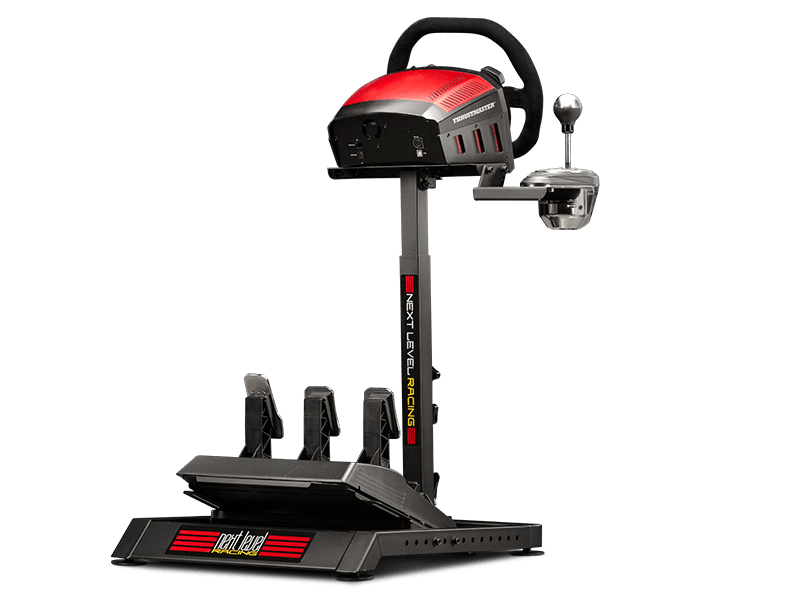 Wielaanpassingsvermogen
De stuurplaat kan worden aangepast voor alle grote merken, waaronder Logitech®, Thrustmaster® en Fanatec®. Met extra functies zoals hoogte- en hoekverstelling ben je ingesteld op de gewenste wielpositie voor een meeslepende race-ervaring.
Verstelbaarheid pedaalplaat
Remmen met vertrouwen! De pedaalplaat is gemaakt van gepoedercoat staal van de hoogste kwaliteit voor een sterke en stevige basis. Met de afstands- en hoekverstelling wordt voor elke gebruiker de perfecte pedaalpositie bereikt.
Schakelpook compatibiliteit
De Wielstandaard Lite shifterplaat, die voorgeboord is voor alle gangbare shifters Logitech®, Thrustmaster® en Fanatec®, kan zowel aan de rechter- als aan de linkerkant worden bevestigd.
KENMERKEN
Stevige standaard voor uw wielen, pedalen en schakelpook
Opvouwbaar in minder dan 10 seconden voor snelle opslag
Schakelpookhouder inbegrepen en kan links of rechts worden gemonteerd
Hoogwaardig en stijf koolstofstaal
Volledig instelbare wielhoogte/-hoek en zelfs pedaalafstand/-hoek
Compatibel met de Challenger zadel add-on om te upgraden naar een volledige cockpit
Compatibel met en voorgeboord voor alle grote merken, waaronder Logitech®, Thrustmaster® & Fanatec®
WAT ZIT ER IN DE DOOS
Next Level Racing® Wielstandaard Lite
Schakelpook adapter/houder
Instructies voor een snelle en eenvoudige montage
Schroeven om uw wiel, pedalen en versnelling te monteren
SPECIFICATIES
Ondersteunde hoogte – 120 – 210 cm of 4ft – 6ft 9 inches
Productafmetingen – L 60 x B 48 x H 50-75cm of L 23″ x B 19″ x H 19″-29″ inches
Gewicht van het product -13 kg
Afmetingen in doos – L 52 x B 19 x H 68 cm of L 20″ x B 7″ x H 27″ inches
Gewicht in doos -15 kg
Onderdeelnummer- NLR-S007
COMPATIBELE NLR-PRODUCTEN
FAQ
Ja! We weten dat als je evolueert tijdens je racereis, je zou willen dat je uitrusting met je meegroeit. De Wheel Stand Lite kan in een volledige cockpit worden veranderd door de Challenger Seat Add-on en Challenger Monitor Stand toe te voegen.
Ja, de Wheel Stand Lite is ontworpen voor alle gebruikers. Met de hoek- en hoogteverstelbaarheid van de wielplaat bent u in staat om de juiste positionering te krijgen. De Wheel Stand Lite biedt ook pedaalafstand en hoekverstelling.
We hebben de Wheel Stand Lite vervaardigd met de meest geavanceerde productiemethoden van lasersnijden en robotlassen om een stevige wielstandaard te garanderen.
Compare
Buy at our selected retailers