Flugsimulatoren
Flight Simulator Lite
*Elektronik nicht enthalten
WICHTIGSTE FEATURES
Kompakt zusammenlegbares Flugcockpit für problemlose Aufbewahrung und schnellen Aufbau
Kompatibel zur Flugelektronik wie Yoke, Ruder, Joystick und Throttle aller gängigen Marken
Vielseitige Einstellmöglichkeiten für Höhe und Abstand
Einschließlich Support für Tastatur & Maus zur einfachen Navigation (Tastatur-Support kann verwendet werden, wenn kein Ruder-System eingesetzt wird)
Hochwertiges, atmungsaktives Gewebe und Schaumstoffpolsterung für maximalen Komfort bei längeren Flügen und Sessions
Vorbereitet für den Einsatz auch als Rennsimulator-Cockpit und die Montage aller gängigen Rennsport-Elektronik
Buy now
Mehr dazu
Ab in die Lüfte! Wir stellen den Next Level Racing® Flight Simulator Lite vor, das erste zusammenlegbare Flugcockpit. Der Flight Simulator Lite ist das perfekte Cockpit für Anwender mit begrenztem Platz, die trotzdem eine stabile und immersive Fluglösung suchen. Der Flight Simulator Lite kann Steuerknüppel, Joysticks, Throttle und Ruder aufnehmen und eignet sich damit sowohl für Verkehrspiloten wie auch für Kampfflug-Enthusiasten. Er ist mit allen gängigen Elektroniken für den Renn- und Flugbetrieb kompatibel. Die innovativen Next Level Racing® Naben (*Patent angemeldet) sorgen für Steifigkeit und ermöglichen gleichzeitig einen schnellen Aufbau sowie eine einfache Klappfunktion für die Aufbewahrung.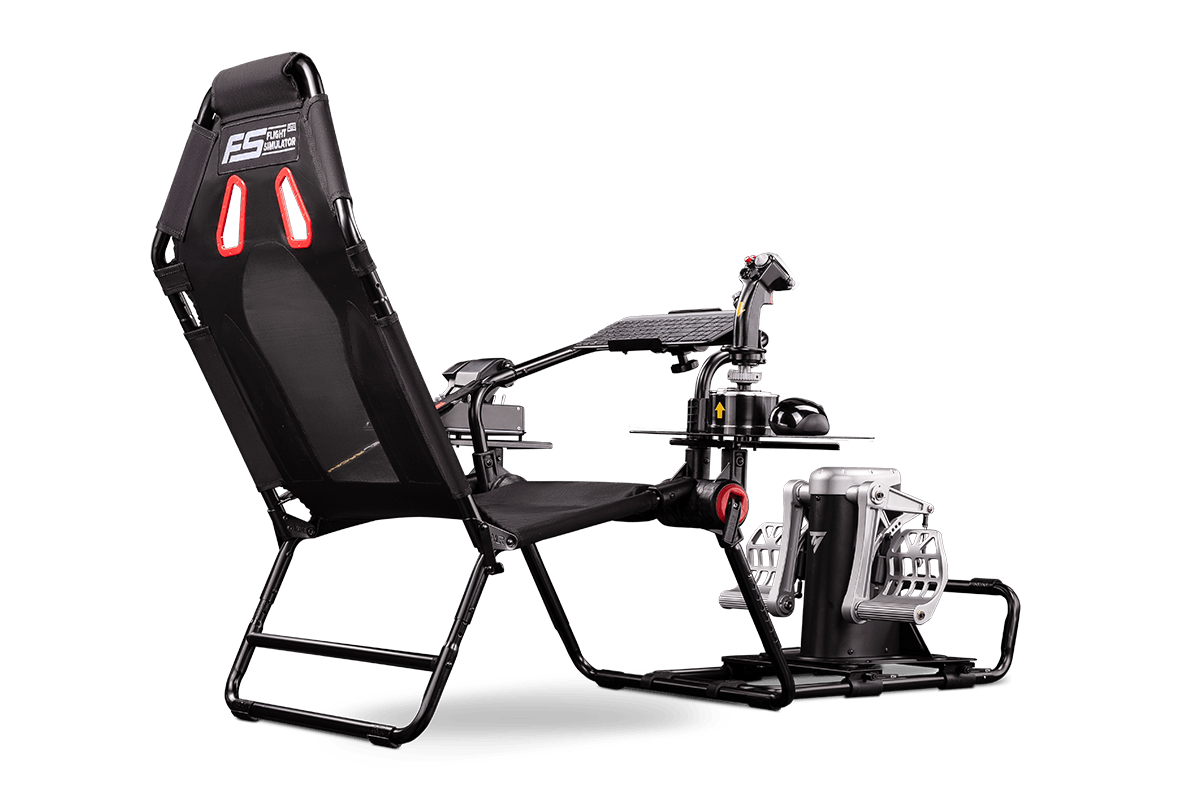 Revolutionäre Gelenknaben
Die Next Level Racing® Naben wurden über zwei Jahre lang entwickelt und konstruiert für höchste Haltbarkeit und Steifigkeit, wobei jede Nabe einer Kraft von 150 kg standhalten kann, um eine stabile Flugposition zu gewährleisten. Die Next Level Racing® Hubs machen das Cockpit auch zu einer perfekten Lösung für einfache Aufbewahrung, indem das Cockpit ganz einfach und schnell zusammengeklappt und wieder aufgebaut werden kann.
Kompatibel zu einer Vielzahl von Flugelektroniken
Der Flight Simulator Lite ist für die Kompatibilität mit einer breiten Palette gängiger Flugelektroniken ausgelegt. Yokes, Ruder, Joysticks und Throttle verschiedener Hersteller wie Thrustmaster®, Logitech®, Saitek® und Honeycomb® können direkt an den Flight Simulator Lite montiert werden. Der Tastatur-Support kann verwendet werden, wenn kein Yoke oder Steuerknüppel eingesetzt wird.
Ein Optimum an Benutzerfreundlichkeit
Dank seines einzigartigen Designs lässt sich der Next Level Racing® Flight Simulator Lite auch mit angeschlossener Elektronik zusammenklappen, damit das Cockpit nach Gebrauch leicht verstaut werden kann – perfekt für Anwender mit wenig Platz. Der Flight Simulator Lite ist außerdem tragbar und lässt sich problemlos an verschiedene Orte mitnehmen.
All-in-One-Lösung
Der Flight Simulator Lite ist die perfekte Lösung für den Allrounder, der gerne Verkehrs-, Kampf- und Weltraumflüge simuliert. Mit einer Vielzahl von Höhen- und Abstandseinstellungen ist der Flight Simulator Lite dadurch für Benutzer verschiedenster Statur geeignet. Kompatibel zu den meisten gängigen Rennsport-Elektroniken, ermöglicht der Flight Simulator Lite dem Benutzer durch den einfachen Wechsel der Elektronik Renn- und Flugerlebnisse in ein und demselben kompakten Cockpit.
Features
Kompakt zusammenlegbares Flugcockpit für problemlose Aufbewahrung und schnellen Aufbau
Kompatibel zur Flugelektronik wie Yoke, Ruder, Joystick und Throttle aller gängigen Marken
Vielseitige Einstellmöglichkeiten für Höhe und Abstand zur Verbesserung des Flugerlebnisses
Einschließlich Support für Tastatur & Maus zur einfachen Navigation (Tastatur-Support kann verwendet werden, wenn kein Ruder-System eingesetzt wird)
Hochwertiges, atmungsaktives Gewebe und Schaumstoffpolsterung für maximalen Komfort bei längeren Flügen und Sessions
Vorbereitet für den Einsatz auch als Rennsimulator-Cockpit und die Montage aller gängigen Rennsport-Elektronik
Pre-drilled and compatible with all major racing electronics to also be used as a racing simulator cockpit.
Kompatibel zu Ruder -Systemen der Marken Thrustmaster® / Logitech / Saitek® / Honeycomb®
WAS IST IM PAKET ENTHALTEN?
Next Level Racing® Flight Simulator Lite Cockpit-Rahmen
Anleitung und Werkzeug für eine schnelle und einfache Montage
Montageschrauben zur Montage Ihrer Flugelektronik
Adapter für Flugplatten
Digitale Montageanleitung und Montagevideos finden Sie hier: https://bit.ly/nlr-instructions
SPEZIFIKATIONEN
Unterstütze Körpergröße – 120 – 200 cm
Unterstütztes maximales Körpergewicht – 130 kg
Abmessungen:
Flugposition: 175 x 120 x 95 cm
Zusammengeklappt: 115 x 120 x 45 cm
Gewicht – 19 kg
Abmessungen der Verpackung 77 x 24 x 59 cm
Verpackungsgewicht – 22,9 kg
Produktnummer – NLR-S022
KOMPATIBLE NLR PRODUKTE
Next Level Racing® Free Standing Single Monitor Stand
Next Level Racing® Free Standing Triple Monitor Stand
Next Level Racing® Floor Mat
Next Level Racing® Free Standing Keyboard and Mouse Stand
Adjustability
KAUFEN SIE UNSERE PRODUKTE BEI AUSGEWÄHLTEN HÄNDLERN